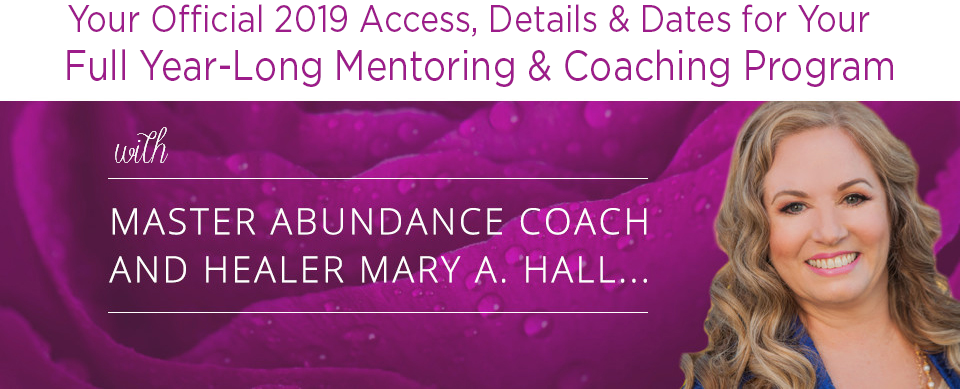 * Congratulations – This is Your 2019*
Official Private Access Page *
~ Welcome to Your 2019 Year-Long Mentoring & Coaching Program ~
 ***  HERE IS YOUR PRIVATE ACCESS PAGE  ***

Please make note and BOOKMARK this page
to return to for all LIVE CALLS
~ PLEASE ALWAYS REFRESH THIS PAGE ~
Congratulations and Welcome to your Private
~ Welcome to Your 2019 Year-Long Mentoring & Coaching Program ~
YOUR PRIVATE AUDIO & WEBCAST DOWNLOAD PAGE
Welcome to the Webcast AND Replay/Download Page for all the powerful healing calls.
(PLEASE BOOKMARK THIS PAGE)
HERE ARE YOUR PROGRAM DETAILS:
A Brief Outline to Get You Started
The 2019 Year-Long Mentoring & Coaching Program and LIVE Healing Calls starts on January 13th 2019. Dates and times can be seen below. Replays and Downloads will be available once the live calls are complete.
Look for your WELCOME email from ~ Mary A. Hall | InnerActive ~ and make sure you whitelist mary@maryahall.com to receive all emails and updates pertaining to the LIVE Healing Calls.
***  Note: BONUS AUDIOS ***
The Audios to get you started on Your 2019 Intentions are located below in Bonus Area
Your 2019 Year-Long Mentoring & Coaching Program
Total of 24 Live Coaching & Mentoring Calls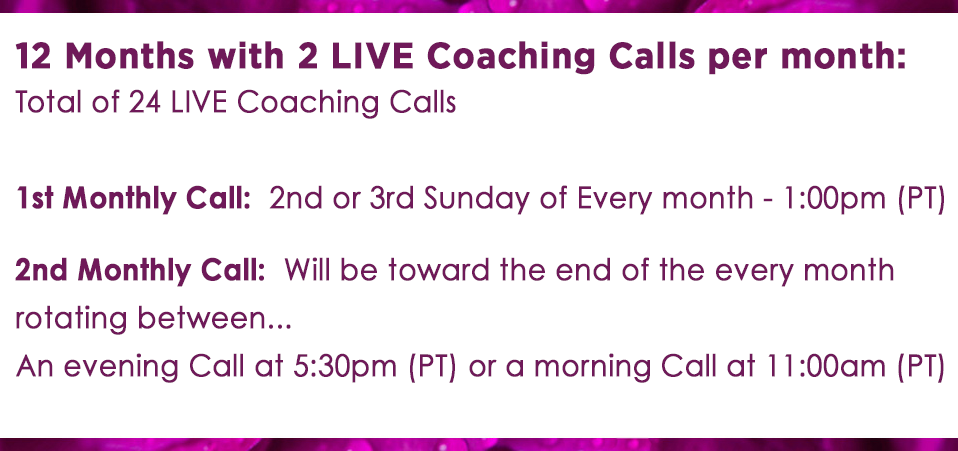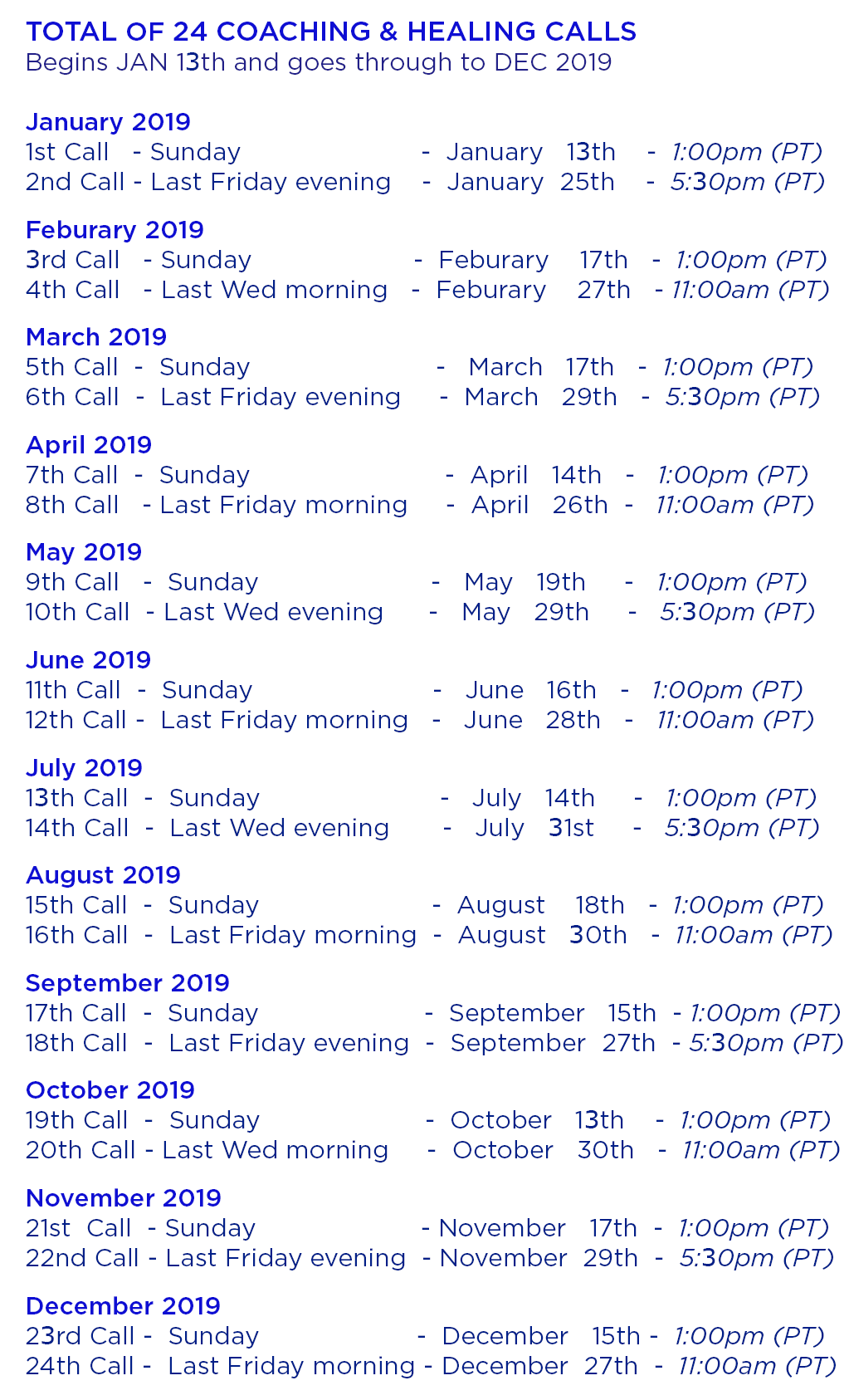 Full List of Dial in Numbers: http://InstantTeleseminar.com/Local/
Skype Users: To participate, you can connect to the calls by clicking the "Join Now" button and entering the conference ID, or you can connect manually by following the instructions for Mac or PC. For instructions, CLICK HERE!
For help or support:
YOUR LIVE CALL ACCESS:
Dial-in Access Details:
New ***   Phone Number: (206) 402-0100  *** New
Also 2 other backup Numbers: 425-440-5100 and 425-440-5010

Pin Code: 390926#
Below Link To Access ALL Local & The International Phone Numbers:
http://instantteleseminar.com/local/

Access to Your 2019 Year-Long Program Calls
~ January 2019 ~
~ Live Call #1 – REPLAY ~
~ Live Call #2 – REPLAY ~
~ February 2019 ~
~ Live Call #3 — REPLAY ~
~ Live Call #4 — REPLAY ~
~ March 2019 ~
~ Live Call #5 — REPLAY ~
~ Live Call #6 — REPLAY ~
~ April  2019 ~
~ To be Rescheduled – 7th Call – New Date to be announced ~
~ Live Call #7 – Date to be announced ~
~ Live Call #8 — REPLAY ~
~ May 2019 ~
~ Live Call #9 — REPLAY ~
~ Live Call #10 — REPLAY ~
~ June 2019 ~
~ Live Call #11 — REPLAY ~
~ Live Call #12 — REPLAY ~
Friday June 28th 2018 – Coaching Call #12 – 11:00am (PT)
June 2019 Coaching Call #12 :
(Note: This PAGE will be updated prior to this live call – please remember to refresh this page right before the call begins.)
Replay and Download Access: (Replay will appear once the live call has ended)

~ July 2019 ~
~ Live Call #13 – REPLAY ~
~ Live Call #14 — REPLAY ~
~ August  2019 ~
~ Live Call #15 — REPLAY ~
~ Call #16 – August 30th – CANCELED
[Due to my older brother's passing away]
The Rescheduled Mentoring Call
~ Live Call #16 – [August]  –REPLAY
~ September 2019 ~
~ Live Call #17 – [September]  –REPLAY
~ To be Rescheduled – 18th Call ~
New Date to be announced…
~ Call #18 – September 27th – CANCELED
[Due to my older brother's funeral]
~ October  2019 ~
~ Live Call #18 – [October] –REPLAY
~ Live Call #20 — REPLAY ~
~ November 2019 ~
~ Live Call #21 — REPLAY ~
~ Live Call #22 — REPLAY ~
~ December  2019 ~
~ Live Call #23 — REPLAY ~
~ Live Call #24 — REPLAY ~
~ 1st Make Up Call – REPLAY ~
~ 2nd Make Up Call – REPLAY ~
~ TO JOIN BRAND NEW 2020 YEAR LONG MENTORING PROGRAM~
~ BELOW LINK TO JOIN AND REGISTER ~
~ CLICK THIS LINK TO REGISTER ~


~ BONUS AREA ~
* Below is the Mirror Magic Exercise Document *

https://spaces.hightail.com/receive/FFtDh


~ Here Are the BONUS Audios to Get You Started ~

6 Audios from the 2018 Celebration 25-Day Love & Healing Program
 4 Healing Audios To Prepare You For Your 2018 Intentions
~ Healing Audio #1 with Guided Process ~
~ Healing Audio #2 with Guided Process ~
~ Healing Audio #3 with Guided Process ~
~Healing Audio #4 with Intention Creating Process ~

2 Guided Healing Processes
~ 1st Guided Healing Circle Process ~
~ 2nd Guided Healing Circle Process ~

**  ADDITIONAL BONUS AREA BELOW **

---