~ Welcome to Your Dec 2018 Holiday Healing Fest ~

*** HERE IS YOUR PRIVATE ACCESS PAGE ***
Please make note and BOOKMARK this page
to return to for all LIVE CALLS
~ PLEASE ALWAYS REFRESH THIS PAGE ~
Congratulations and Welcome to your Private
~ Holiday ~ Return To Love Healing Fest Page
YOUR PRIVATE AUDIO & WEBCAST DOWNLOAD PAGE
Welcome to the Webcast AND Replay/Download Page for all the powerful healing calls.
(PLEASE BOOKMARK THIS PAGE)
HERE ARE YOUR PROGRAM DETAILS:
A Brief Outline to Get You Started
The 22-Day Holiday Return To Love & Healing Fest and LIVE Healing Calls starts on Dec 15th 2018. Dates and times can be seen below. Replays and Downloads will be available once the live calls are complete.
Know that the Quantum Healing Energies, and Love-infused energy transmissions have started as soon as you said YES and signed up – just sit back and receive the remote love frequencies and energy healings.
Look for your WELCOME email from ~ Mary A. Hall | InnerActive ~ and make sure you whitelist mary@maryahall.com to receive all emails and updates pertaining to the LIVE Healing Calls.
Note: Scroll down to access 3-Hour Group Healing Circle Replay

Your Return To Love – Live Quantum Healing Call Dates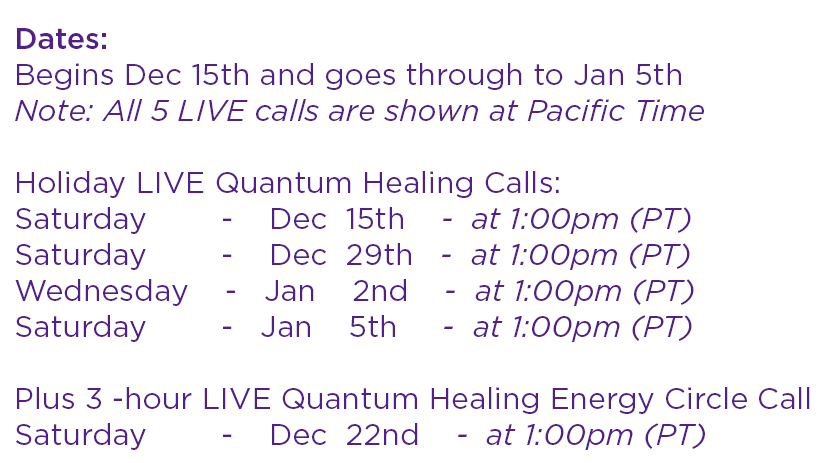 Full List of Dial in Numbers: http://InstantTeleseminar.com/Local/
Skype Users: To participate, you can connect to the calls by clicking the "Join Now" button and entering the conference ID, or you can connect manually by following the instructions for Mac or PC. For instructions, CLICK HERE!
For help or support:
For help or support please email directly to our 'Holiday Return To Love & Healing Fest' Customer Support Team – Jem Walden
love-support@maryahall.com
If you are not receiving EMAILS:
Here are the directions for you to follow if you aren't receiving your 'Return To Love' emails with all the details from ~ Mary A. Hall | InnerActive ~ mary@maryahall.com:
1st) First email Jem at Love-Support@maryahall.com and let her know you are not receiving my emails.
2nd) Next go to maryahall.com and register for Mary's Daily Heart Meditation on the upper right of my website and then email Jem so we can hook you up to receive emails for this program.
YOUR LIVE CALL ACCESS:
Dial-in Access Details:
Phone Number: (949) 333-4822
Pin Code: 770647#
Below Link To Access Local & International Phone Numbers:
http://instantteleseminar.com/local/
Your 4 Live Quantum Healing Calls
~ 1st Live Call – Replay ~
1st Quantum Healing Call – Dec 15th Saturday 1:00 pm (PT)
(Note: This PAGE will be updated prior to this live call – please remember to refresh this page right before the call begins.)
1st Quantum Healing Call
Replay & Download Access:

~ 2nd Live Call – Replay ~
2nd Quantum Healing Call – Dec 29th Saturday 1:00 pm (PT)
(Note: This PAGE will be updated prior to this live call – please remember to refresh this page right before the call begins.)
2nd Quantum Healing Call
Replay & Download Access:

~ 3rd Live Call – Replay ~
3rd Quantum Healing Call – Jan 2nd – * Wednesday *
1:00 pm (PT)
(Note: This PAGE will be updated prior to this live call – please remember to refresh this page right before the call begins.)
3rd Quantum Healing Call
Replay & Download Access:
~ Creating Your Intentions for 2019 ~
~ * 4th Live Call – Replay ~
4th Quantum Healing Call – Jan 5th Saturday 1:00 pm (PT)
(Note: This PAGE will be updated prior to this live call – please remember to refresh this page right before the call begins.)
4th Quantum Healing Call
Replay & Download Access:
Your 3-hour Live Quantum Healing Circle Call
~ Our 3-hour LIVE Healing Circle Call ~
~ Dec 22nd – Replay is Up ~
– Your 3-hour Quantum Healing Circle Call –
Dec 22nd Saturday 1:00 pm (PT)
(Note: This PAGE will be updated prior to this live call – please remember to refresh this page right before the call begins.)
Your 3-hour Quantum Healing Circle Call
Replay & Download Access:


Continuation… with Year Long Mentoring
(Note: This PAGE will be updated prior to this live call – please remember to refresh this page right before the call begins.)
~ To Receive Support in Continuing Your 2019 Intentions
Creating Magic and Miracles in Your Life into 2019 ~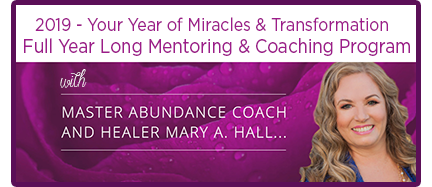 ~ Special Full Year-Long Mentoring Program
12 Months including 24 Live Calls with Mary A Hall. ~
http://maryahall.com/2019-year-of-miracles/
---