CREATING AN ABUNDANT LIFE
Mary has compiled the best of her Abundant Life Coaching programs to give you an amazing series of audios that will assist you in laying the foundation to creating, once and for all, YOUR abundant life. The heart of this program is based off of Mary's Abundance Attunement Healing System which takes clients step-by-step through the Foundational Layers of Abundance. This program will teach you how to resonate to these foundational patterns that create success in all areas of your life and will open you up to heal the parts of you that aren't in alignment with this energy. You will be given tools and techniques to apply to your life right away in order to achieve the success you're looking for.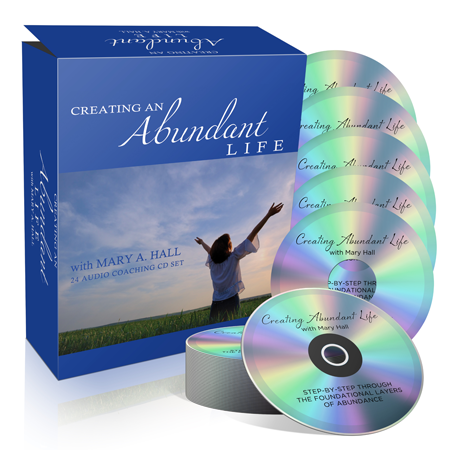 From the first audio you will begin to shift as you resonate to the first foundational layer, building a platform that actually creates the energy of abundance, allowing flow and delivering true wealth, creativity and success to you.
You will learn how the conscious and subconscious minds work in relationship to wealth and abundance and this knowledge will empower you to clear, release and build your own foundation for abundance from the inside out.
This foundational platform gives you the imprint for feeling safe, free, confident, abundant and feeling that you are worthy to have good things come into your life. All of these feelings are the essence of self-worth and the energy that creates self-worth is the exact same foundation that creates wealth, wonderful relationships and the ability to flow with life.
By the time you are done with this program, you will be able to clearly define how these foundational ways of being affect every aspect of your life. You will feel gratitude in your heart as you recognize that you have opened your awareness to abundance in a new way, from experiencing this audio coaching experience.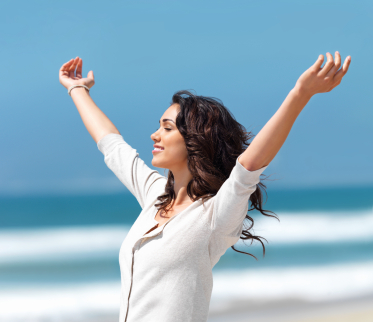 Now in order achieve the best result from this program, ask yourself the following questions:
Are you teachable?
Are you ready to learn tools to transform you way of being?
Are you willing to shed your old (current) beliefs and your old (current) ways of being?
Are you ready to daily put into practice living a more loving, free, successful life?
Are you ready to become your abundant self in every area of your life… money, relationships and with all of life?
Are you ready to dramatically alter your self-worth?
Are you ready to create a new relationship with YOU?
If you have answered yes to these questions, then (feel this in your heart) YOU are ready, and this is for you.
Things you will learn and experience:
To identify and clear internal blocks to the flow of abundance in your life
Clearing the blocks and creating a foundation for abundance
Understanding and clearing your personal limiting beliefs
How not working at it to do something or get something done -it's the practice of play and receiving that builds the foundation
Identifying and releasing and clearing blocks to abundance
Understanding False Beliefs, Trauma, Stuck Energy and Physical Symptoms
Releasing fear and upset around present finances and/or past decisions
Releasing the energy around your debt
Creating a Financial Fitness "Plan of Play"
Financial Fitness, working and playing with the energy- like getting in shape with the energy of financial abundance.
Daily abundance workouts: Establishing daily energy exercises for tapping into and creating abundance.
Freeing your inner essence to receive
Building the internal foundation of abundance practices
The power of the conscious and subconscious mind…
Mary has incorporated all of her healing systems into these Coaching sessions, so you will experience them all and will learn how to use them in conjunction with creating your Abundant Life.
E.F.T. (Emotional Freedom Technique)
Mary works with clients using E.F.T. (Emotional Freedom Technique) a system of healing invented by Gary Craig that uses energy meridian points to heal the body of emotional trauma. It opens the up the soul to flow, health and well being. Mary is a gifted E.F.T. specialist and is renowned for her unique application of the techniques. Her deep felt sense of core issues percolating beneath the surface allows her access to an expression of E.F.T. healing that delivers amazing results.
L.E.T. (Now – Sacred Soul Embodiment)
Sacred Soul Embodiment is a proprietary system Mary has developed that helps clients to discover new-found energy, happiness and fulfillment. This simple technique when used regularly keeps you on your path and effortlessly focused on your dreams and achievements. The subtle healing that occurs in the background contributes to an overall feeling of well being and peace, opening you up to the flow of good rushing toward you.
Energetic Re-Patterning
Moving deep into the Body Mary helps to create a new vibrational blueprint and "tell a new story" about old patterns. This new story holds a new energy imprint and the old blocks and beliefs seem to fade, through the creation of this new energy vibration that continues to expand your levels of possibility and flow.
H.E.A.R.T. Resonance & HeartThoughts
Mary has discovered an energy healing system that leverages the pure healing energy of "love" called H.E.A.R.T. (Heart Energy Application Resonance Technique) Resonance. Through this system Mary is able to access the pure and primary essence of love energy. She can then guide this energy into her client's blocks, dis-ease, pain and dysfunction to create a new field of possibilities, enabling tissues, cells and beliefs to shift into a new form. HeartThoughts are part of this energy creating phrases that stimulate the H.E.A.R.T. energy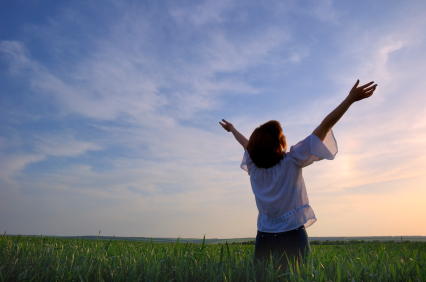 Plus Many Many More Mary offers many more tools, tips and techniques that she will be sharing throughout the audio program.
Your Package:
8 Lessons compiled into approximately 12 hours of audio. I will lead you step by step into the feeling sense of abundance. There are specific ideas and feelings that you will need to experience in a certain order to create the vibrational foundation of abundance. These 8 lessons will guide you to create this foundation then expand on it.
5 Bonus Processing Calls compiled into around 8 hours of audio. In order to hold the vibration of abundance there are old traumas and stuck energies that need to be cleared. These processing calls take the best of the original coaching programs processing calls (using E.F.T., L.E.T. and my H.E.A.R.T. healing techniques) and clear out those obstacles to wealth. The energetic frequencies of the healings are still embedded into the audio recording and you will feel this as you listen
Bonus Transcripts of all calls (a $127 value). You can read the calls in this over 300 page document and enhance your listening experience… if you need to do a keyword search you can do that in the transcripts. It is great to have another sensory experience to take in the amazing content found in this series and this additional bonus will deliver that.
PLUS 9 supporting documents of information to support this audio coaching, including an inspirational poster, a HeartThoughts Poster, David Hawkins material in context of my abundance theories, and much more.
Available for Purchase Now…
The price of this product is less than the price for one individual session with Mary, and you get EIGHT lessons with approximately 20 hours of unprecedented coaching and processing plus BONUSES (see Below).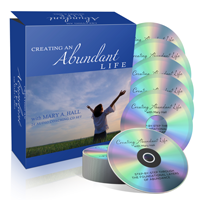 Audio Download $347.00 (Value $647.00)

Hard Copy CD $407.00 (Value $704.00)

Through this program, you will daily spend time in Your 'PLAN to PLAY' to increase your abundance. In doing so you are accessing what is ready to be released and using the
tools, techniques and practices to get to the heart of the obstacles to find, discover and embrace a new way of being.
BONUS PRODUCTS
To sweeten the experience I am going to include my special HeartThoughts audio (Value $57). I created this powerful clearing and healing product to be used daily to help you to find that profound place of peace, calm and love to help you with every aspect of your life. This little audio can change your life.
You will ALSO receive my renowned Daily HEART meditation (Value $47). I had been guided to create this unique audio meditation designed to start your day off in perfect flow and magnificence ensuring you are the perfect magnet for all you want each day. This meditation is imbued with special healing energies from my H.E.A.R.T (Heart Energy Activation, Resonance Technique) you can feel as soon as you start to listen. This is available to you as my gift to help you achieve your goals each day.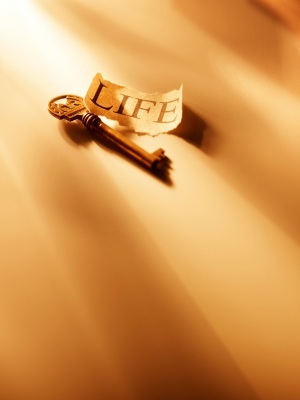 "Dearest Mary, this class has been so amazing, transformative, helpful, insightful and an absolute joy! I have done many years of personal growth work both in the area of healing trauma and in the area of abundance/law of attraction. I have not come across any program or teacher that seamlessly integrated the two in the way you do. While people on all levels of abundance and healing will greatly benefit from your work, this class really is a rare beacon of hope and the missing link to abundance for people who are dealing with deep seated vibrational obstacles. I am in awe of your ability to create tremendous safety, authenticity, intimacy and trust among a large group of strangers over the phone and webcast. You honed in on core issues, on the messages between the lines, with such skill and ease through your intuition and sensitivity for energies. You are able to explain the concepts with great clarity from the depth of your understanding. Most of all, the healing light of your love shines through the words so brightly and touches, sometimes gently pierces people's hearts in just the right places, reminding all of us of who we really are. I am honored to have been a participant and witness to your work."
~Nina, AZ~
"I have studied, practiced, taught, enjoyed, participated in many, many spiritual and personal development workshops. The Abundant Life Course with Mary Hall, has been a missing link, the piece that pulled all of my years of training, into an embodied presence that has really empowered me to not only go through layers of 'stuff' known unknown, it has given me tools that I use the moment that 'stuff' comes up. This class is an absolute for anyone and everyone wishing to learn more about making conscious our unconscious issues as well as ways to change the way we hold them in our bodies and in our minds. I listen to the calls over and over, take notes and have started sharing the techs and info
with others already…it is usable info right away and very, very clear and simple. Mary's presence is loving, kind and just 'being with her' creates a vortex of abundance. Indeed."
~Kim Coleman, Canada ~"
"I have been doing so much consciousness work, and yet I always felt a level of awareness that I could not reach/access. So even though I could feel things, create on one level, in my physical reality I was not experiencing it. Now, after going through your class, I now understand why I could not let it in. And I got to a point of loving/honoring and being myself that I was able to end a relationship that I knew was not right for me. The best part of this whole experience is the feeling of love and flow that I feel. And even though there may be more to address, I am doing so from a very different space…a more loving space and it feels so much easier, gentler, and kinder to myself and others. Thank you Mary, for your love and holding of the space for us to see who we really are. I love you."
~JiSeon, Oregon ~
"There have been so many shifts in my awareness and so many examples of how abundance has either entered or been recognized as having already been present in my life I could write a short story about it! The depth of balance I've achieved in my life accompanied by the feelings of joy, gratitude and love I've learned to maintain throughout my day/week is something I thought it would take years to train myself to do; however, you've catalyzed it in 8 weeks! Bless you and thank you Mary for the size and strength of your divine heart."
~Kami Bowman, Florida~
"Taking Mary's "Journey to Abundance" is the greatest gift I could have given myself and, therefore, all of my loved ones. To me, it's been miraculous. Mary is "Love Personified" and she is exactly who I needed to "hold me" as she did with Love, Compassion, & Support, in order to get "unstuck" and to truly blossom in my life. After doing the homework, and "Playing" with all the loving information and strategies that Mary gave us, I'm feeling GOOD, HAPPY, & JOYFUL 85% of the time!! Life is exciting and I'm feeling infinitely blessed!"
~ Carolyn Mair, Oregon ~
"This Abundance class has been one of the BEST classes that I've ever taken. I am becoming the person that I've always dreamed that I could be. The collaborative effort that you and Jennifer gave to all of us is beyond words. You both allowed us to shed another layer of our old self and allowed us to blossom like a spring flower. I am forever grateful and touched by your level of commitment and generosity. God Bless you and all the things that you do. I highly recommend this AMAZINGLY transforming class to anyone is ready to find their authentic self."
~Debbie~
"These past 8 weeks have been wonderful for me. When I started this course I had so many doubts and held beliefs that were setting me up for the wrong things in life. Today I
feel like the world is open to me. Mary, you have provided the most powerful and wonderful tools in order to build the foundation for abundance. I feel so much better about all of the abundant possibilities before me. And now I 'know" that every day is a divine blessed infinitely abundant day. This group has been wonderful to work with. Thank you Mary for blessing me with so many loving gifts."
~Love, Cecilia from Ohio~
"It's hard to put into words what the Abundant Life Coaching Group means as it's such as transformational experience. I came in as version 1.0 and leave as 2.0 and my view of the world is wide open, abundant and full of bright vibrant color. Thank you so much for everything."
~Sherry Waddingham, Canada~