* Your SPECIAL INVITATION 63% off Special *
RARE: Work One-on-One With
Master Intuitive Coach & Healer Mary A. Hall
She'll Intuitively Guide, Embrace & Profoundly Support You In Abundance & Healing Energies Within The Divine Wellspring of Love…
IMAGINE: A Private Session With This Proven Transformational Healer… YOU Working DIRECTLY With Mary….
It's your time to be seen for who you truly are… and to see and experience the real potential that resides within you.
Do you sense that?
Yet lately you may have felt a little beat up by life… weary of the seemingly uphill battle around specific challenges in your life.
The good news is, this uphill "syndrome" is actually a surprising SYMPTOM… an indication of a upcoming BREAKTHROUGH.
Yeah, you read that correctly; the seeming hardness of life is often an indication that right around the corner is emerging an imminent breakthrough.
The Big breakthroughs that create a new paradigm of freedom sometimes needs a little support…
Someone outside that can see the blind spots and can support you through the areas that you might be hesitant to access.
Now, before you is a rare opportunity to receive deep emotional, spiritual and therapeutic healing support.
From a true master…

Mary is offering this rare opportunity of one private session, that you can book TODAY to establish those wings of clarity, harmony, possibility, health and flow.
Imagine working directly with this angel of light, allowing her to see and hold you in this divine embrace.
And the support of knowing you are no longer in this alone.
Imagine waking up the day after with the confidence of "I can do this" and witnessing the evidence that shows up in agreement with that notion.
THIS IS YOUR CHANCE TO BREAKTHROUGH
Mary has decided to open up the opportunity for you to have direct session work with her — a rare occurrence.
She has been so busy with speaking engagements, creating new products and hosting live coaching programs, while meeting the demands required of her powerful healing gifts, she hasn't had much time for this kind of one-on-one, private session work.
She loves working with individuals privately, as they together witness the powerful healing energies and guidance that shows up in these individual healing and coaching calls.
They fill her up and allow her to play in the frequencies of creative possibilities, fullness, flow and abundant fields of love that IS your energy.
And she's created the space to serve you.

You see, we all benefit by receiving soothing, healing energies that can direct us and remind us of our truth.
This support invites in a new resonance of possibility and a true deepening that aligns us with our inner truth.
From this space, wholeness, harmony, health, abundance and creativity are born, sparking new found self-honor, acceptance and self-love.
We need the wisdom of a master intuitive coach and healer who can truly support us in what's next, and help us maintain that advanced level of consciousness into the next phase of our life.
And it is here for you now… feel it. Sense Mary's loving intent and allow yourself to feel embraced and supported right now.
Mary represents the next generation of cutting-edge healing, matched with proven principles of success and married with sound business advice and personal coaching.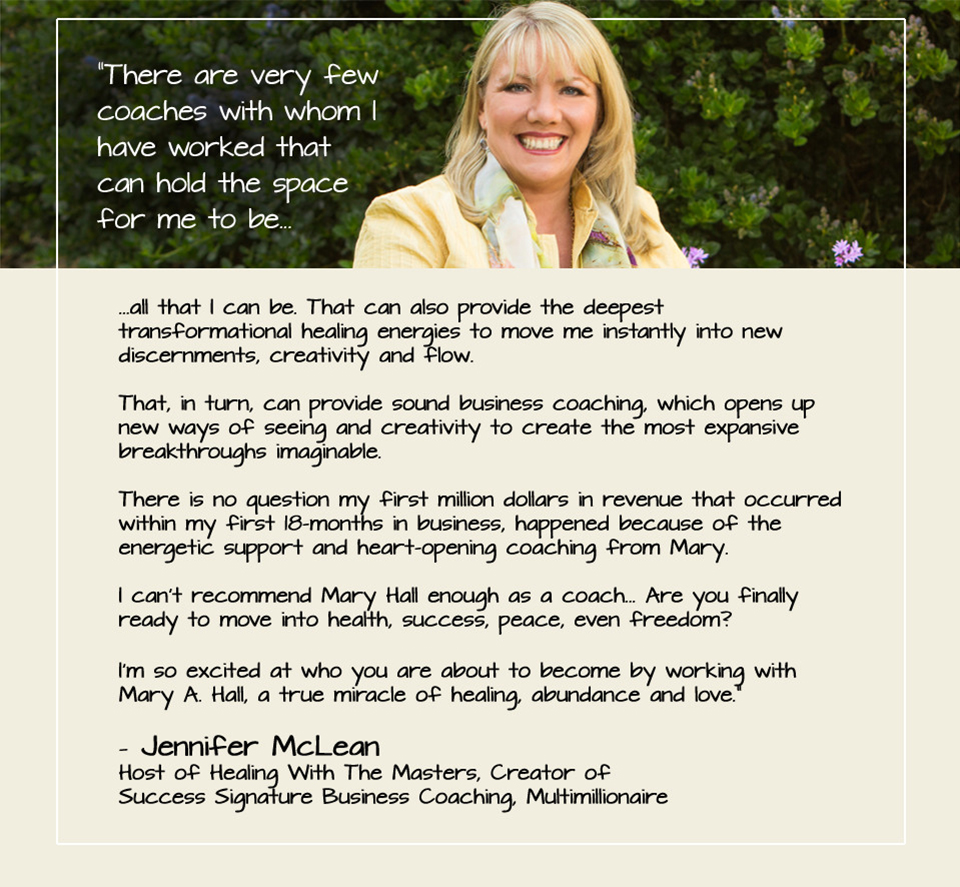 So… This is for you if…
You know it's your time to be seen for who you truly are… and to see and experience the real potential that resides within you.
You are ready to say YES to receiving true, loving, divine support.
You've been wanting to 'uplevel' your game but just weren't sure how…
You may have even felt like you are lost in the fog of a current situation… ready to see clearly what's possible.
You are looking for the truth… ready to see the true energetics surrounding your present circumstances.
You are ready to see from a higher vantage point… to access the true higher perspective, where lasting true change occurs.
You're ready for a mentor/coach/healer to tap into your own unique potential to truly guide you in your magnificence.
And it is all here for you now…
---
* Your SPECIAL INVITATION of [1] Session for 63% off Special *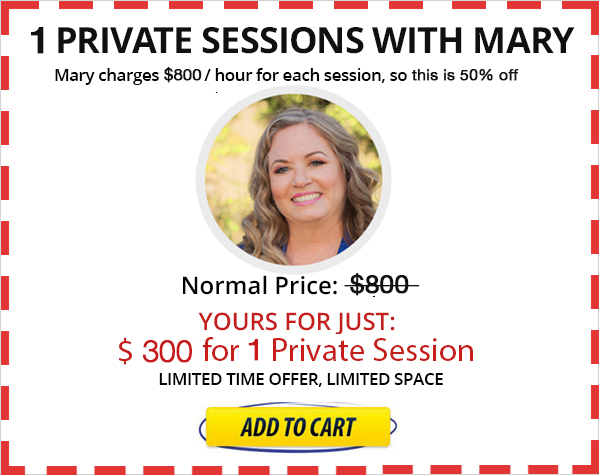 ---
* This session can be used for Healing, Coaching or even a Repatterning *

---

I am so glad I said yes to working with Mary. I didn't know how to change my situation. It has worked out amazingly… I feel so much more positive about everything. I can't believe how quickly things have resolved. Thank you, Mary, I now know what I can do. ~DL
I am in such deep awe and amazement at how clearly and accurately she saw the truth of my situation — and in fact of everyone involved! She is so gifted at being able to hone in so quickly on the real energies — and this really helped me to clearly see the highest outcome and possibilities for all. Thank you! Thank you! Thank you! This was the best thing I ever did… Gratitude from the bottom of my heart. SE
My experiences with Mary have been nothing short of life changing! The person I was, prior to working with Mary is hardly recognizable. Mary's guidance and profound healing abilities were applied in such a loving, gentle way, encouraging me into remembering of my divine connection. This remembrance allowed me to see who I was always meant to be, allowing me to blossom in confidence and personal power, embracing myself and my life with love and abundance. In deep gratitude and love! ~ KM
"Mary, your work is amazing! I've made such huge shifts with your gentle, powerful healing work. I truly feel acceptance and unconditional love from you – you don't know how much I appreciate you! My transformation is amazing and due in a very large part to our work together! Thank you, Thank you, Thank you!" ~ JC
When I started working with Mary I was stuck with a feeling of failure from a loss I experienced a few years ago. The thing that was most transformational for me was Mary's healing and intuitive ability was able to get me to focus on very specific feelings, allowing them to freely and fully clear and release. I was able to move from things being hard, to a place of ease. I now feel more confident moving forward in my business. I know I can create it exactly the way I want and be successful. Mary is easy to work with and gives her heart fully. I am so grateful to have had the opportunity to work with her. Thank you. ~ ID
How does Mary do that? See me, see what's possible and guide me to it so profoundly? I'm amazed and dazed at the elegance and simplicity, yet depth of transformation. She is what I have been asking for. I am changed, renewed and excited about life again. GS
---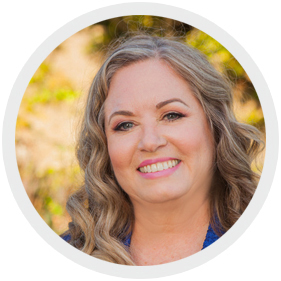 About Mary A Hall
Mary is one of the most powerful intuitive coaches. She not only leads in the fields of abundance, wealth, money and success, she is also a renowned energy healer, assisting with life challenges of all stripes and colors.
She has an uncanny knack for tapping into the level of flow and abundance and adjusting and calibrating the internal energies through coaching and energy work.
Having worked with preeminent individuals; business leaders, health and wellness leaders, advertising and brand companies, doctors, financial advisors and more, she has proven over and over that there is always a point of access to shift one's capacity for balance, harmony, abundance and health.
This is not just some philosophy or rote practice she delivers; this is pure access. Mary helps individuals move the needle on their lives and open the floodgates of possibility. She creates a space of allowing for breakthrough changes in how one feels, looks at, and interacts with relationships, health, money, wealth and abundance, igniting newly formed self love and acceptance. Get ready for your transformation.